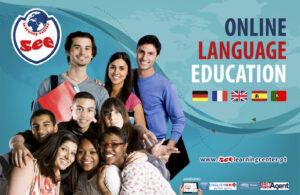 Although face to face group language classes are a valid and fun way of studying, the competing demands of modern life can make it difficult to stick to a regular schedule. You may have to attend a meeting or a training session at work which makes you late for, or even have to miss a class. Your friends and family may have events or needs that temporarily take priority over your language learning. These obligations are part of our busy lives but they also mean you lose out on the classes you've paid for.
Thankfully, the days when physical group classes were the only way to learn a new language are long gone. Natalia Sebastião Barata, founder of SEE Learning Centre, created a flexible, tailored solution in 2015 that enables you to take your language classes whenever is most convenient for you.
These individual online classes give you the flexibility you need to deal with unexpected or important changes to your routine without missing out on your language learning and wasting money.
Choose the option that suits you best:
If you are only likely to experience occasional disruptions to your normal routine and like the familiarity and routine of having lessons at the same time each week with the same teacher, we can arrange this for you. You get the added bonus of being able to reschedule a lesson at no extra cost if you need to.
If your schedule is more erratic and changes too often to commit to a regular timetable, simply tell us when you can fit in a class and we'll match you to an available teacher. This fully flexible option allows you to maximise your opportunities for language learning whenever you can make the time.
https://www.facebook.com/SEE-Languages-Online-384298975112298
GET IN TOUCH TO DISCUSS YOUR ONLINE OPTIONS
TESTIMONIALS:
I improve my English fluency by attending English speaking lessons. Programmes designed according to your needs lead to a faster progress. Through online lessons, at home or on the road, I can follow my course and still go wherever I need to. I would recommend online lessons as they are a very good opportunity to the many business women and mothers.

Aslıhan Kerimoğlu, Vodafone Turkey, Safety Specialist, Senior Engineer


Spanish classes are very successful. The best thing is that I can have my private lesson anywhere I want to. I do not have to stay home, I can even save time by having my class at Istanbul's traffic. An internet connection is all you need to take advantage of this excellent education. Lessons with the teacher go very smoothly, I recommend it to anyone!

Merve Celik, Sanofi-Aventis Turkey, Safety Specialist, Senior Engineer


Taking a course online is a great advantage, in the way that you can keep any special events you had planned you want. As far as the teaching methods are concerned, they allow you to get a very good practice. I highly recommend it!

Dr. Yurdaer Ozcan, Bayrampaşa Social Security Hospital, Internal Medicine Doctor